Asphalion, SL (hereinafter referred to as "Asphalion" or "we") uses first-party and third-party cookies for analytical and marketing purposes, as well as to share content on social media.
1. What cookies are:
Cookies are small text files that are downloaded to your computer when certain websites are used. The main goal of the cookies is to adapt the content of the website to the user's necessities and preferences so that they have a more comfortable experience. In order to achieve so, cookies tend to stock different kinds of information, like use statistics, language used, website personal configuration or technical information, among others. The lack of cookies utilization would limit the services offered by the website.
2. Cookies used by Asphalion:
Please find below the types of cookies that we use in this website. You can accept or reject them by clicking in the corresponding checkbox near each type of cookie. You can modify the configuration at any time.
FIRST-PARTY COOKIES
Some cookies are managed by Asphalion:
Functional Cookies: These cookies are considered essential for the proper functioning of the website and are required for the most basic tools and services, that is why they are always enabled.
THIRD-PARTY COOKIES
Some cookies are from third parties, which means that they are sent to the users' device from a domain that it is not managed by Asphalion, but by another company, that will process the data obtained: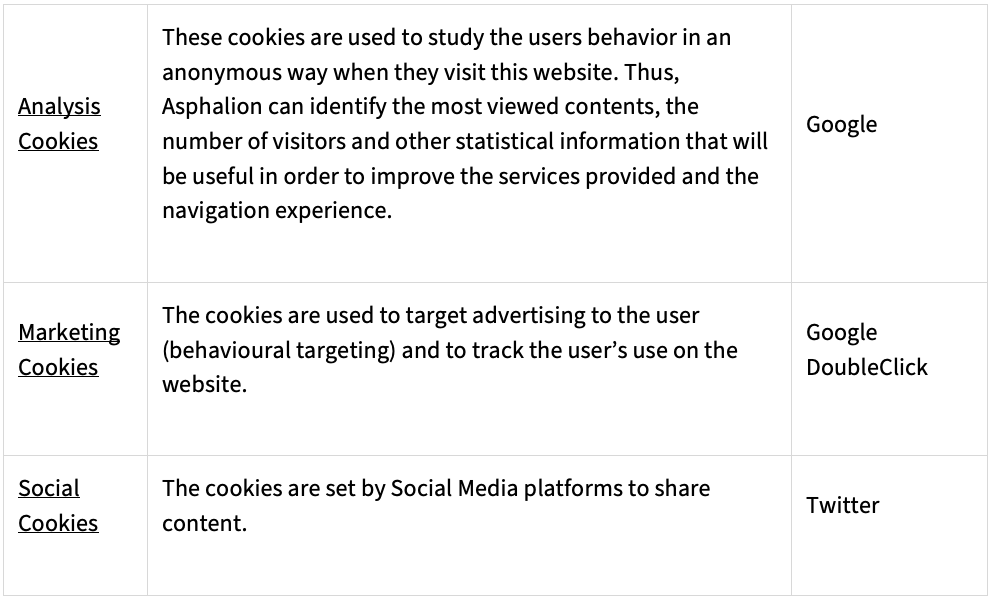 3.    Blocking or deleting cookies
You can block and delete cookies by activating the setting on your browser.
Find below the links to the official support websites of the principle browsers, where it is indicated the way to configure the cookies use:
Microsoft Internet Explorer
Mozilla Firefox
Google Chrome
Safari
Please, take into account that if you use your browser settings to block all cookies (including essential cookies) you may not be able to access all or parts of our website.
4.    Processing of your personal data through the cookies
4.1. Data processor
ASPHALION, SL
C/ Tarragona 151-157, 10th floor, Block A, 08014 Barcelona (Spain)
info@asphalion.com
4.2. Purpose and legal basis for the processing
The purposes for the processing of your personal data collected through the cookies are indicated in the above Clause 2 of this Cookies Policy.
The legal basis for such processing of personal data is your consent, which you can configure or reject by following the instructions indicated in the above Clauses 2 and/or 3.
4.3. Recipients of the personal data
We will share the data collected with public bodies or authorities in order to comply with any legal requirement and with service providers or third parties in order to manage and execute cookies.
With regard to the third-party cookies identified in Clause 2, bear in mind that these cookies are either sent from a domain not managed by Asphalion, but by the corresponding third party, or from the domain www.asphalion.com, but the data collected is managed by that third party.
4.4. International data transfers
The data processing is carried out generally by service providers within the European Economic Area or in countries which have been deemed to have a suitable level of protection.
In other cases, Asphalion guarantees the security and legitimacy of the data processing by demanding from its providers that they have binding corporate regulations that guarantee the protection of data in a similar way as those established by European regulations; that they adhere to the Adequacy decision for safe and trusted EU-US data flows, if they are service providers in the USA; or that they subscribe the standard clauses of the European Union.
4.5. Data retention
The personal data will be processed while the granted authorizations for use remain in force. In accordance with data protection regulations, this data shall be retained during the limitation period established for the actions arising from said authorizations, with the aim of complying with the legal obligations required by Asphalion, and of filing, exercising or defending claims.
4.6. Data subject's rights
Asphalion hereby informs you that you may exercise your rights to transparency of information, data portability, access, rectification, erasure, objection or restriction of the processing or transfer of your data, as well as to withdraw your consent to any or all processing of your data, by sending an email to info@asphalion.com or a written request with the reference "Personal Data" to C/ Tarragona 151-157, 10th floor, Block A, 08014 Barcelona (Spain).
You also have the right to file a claim before the competent authority on data protection matters.
5. Updates and changes to the Cookies Policy
Asphalion may modify this Cookies Policy in accordance with any new legislative or regulatory requirements or in order to adapt it to the instructions published by the Spanish Data Protection Agency.
When significant changes occur in this Cookies Policy, the user will be informed via a notice on the website.